The Community Center is the hub of Lake Heritage's indoor events and activities. It overlooks the lake and there is a deck to enhance its charm. It is a spacious, well-appointed, comfortable room with complete kitchen facilities that allow for large parties and gatherings of every type and description. The kitchen has a large refrigerator, professional stove, an ice maker, and much more.
Enjoying the Community Center
Besides being used for Lake Heritage organizations such as the meetings of the Board of Directors, the Fishing Club, the Women's Club, etc., it is the perfect venue for weddings, family reunions, and events that often take place in spaces that accommodate up to 150 people (its seating capacity). Tables and chairs are available. It is specifically for Lake Heritage residents and must be reserved in advance.
Community Center Features
Accommodates up to 150 people
Full-service kitchen
Dishes and silverware available
Refrigerator, professional stove, ice machine, and dishwasher
Tables and chairs provided
Live TV and Recorded Media Streaming*
* The large Room of the Community Center has the capacity to show live TV broadcasts. Any renter who wishes to use this facility should make arrangements in advance to learn how to use the equipment and how it may be arranged. The set up consists of an LCD projector, a portable screen, and a Comcast cable box. There are several devices that work together and an equal number of wires and cables. Support must be arranged before the event. The same set up may be used to present recorded media. For more information, contact the administration office using the association's website's contact form, lakeheritage.org/contact-us/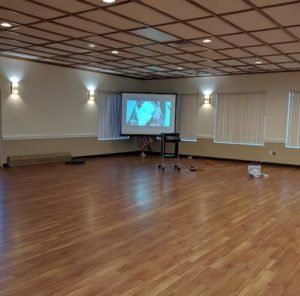 A small meeting room for 40 people is also available.