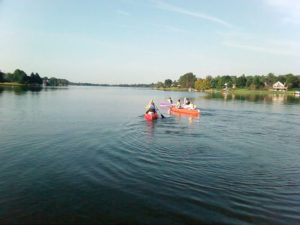 A Variety of Boats
Lake Heritage is home to almost every type of boat imaginable. Is your preference a canoe, a kayak, a motorboat, a sailboat, a pontoon boat?  They're all here. The lake is a place for aquatic recreation at its best. Fall overboard? No problem. Life preservers are required, and the lake water is clean!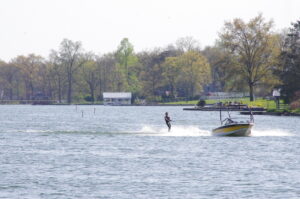 Swimming in the Lake
Residents can swim in the lake. However, they should be aware that no lifeguard is on duty. We do have some residents who participate in long-distance competitive swimming and they regularly practice on the lake.
Lake Rules
Yes, there are rules and regulations that govern the use of boats. To find out more visit the RULES AND REGULATIONS and jump to RR #10.
Boating Safety
View and download the Lake Heritage Boating Safety Leaflet
Boat Quarantine Process
View and download the Quarantine Flow Chart
Ski Club and the Regatta
The LH Regatta is the premier water event of the year and takes place at the end of the summer. There are food vendors and mammoth inflatable toys for children, as well as feats of aquatic magic performed by our Ski Club. Thousands of Lake Heritage residents enjoy the best and the brightest of the Ski Club.  Visit the Regatta 2022 page
Businesses on the Lake
One of the two commercial businesses located in the lake is our marina. They provide A to Z service for Lake Heritage boating enthusiasts.
Another commercial business is Designers Edge, which is small hair and nail studio located right next to the Marina.