Lake Heritage Bridge Club welcomes all to their party bridge group. We play the 1st and 3rd Friday nights at 7 pm at the Community Center. The cost is $.50 a player, and we each bring snacks to share.

The goal of the Creativity Club is to provide Lake residents and their guests an opportunity to share their creative talents, learn new skills, network with others who have similar interests, and provide a creative outlet through hands-on activities. All creative pursuits and interests are welcome. Possible future activities include photography, writing, crafts, music, acting/improv, and many others – depending on members' interests. The Creativity Club received Board approval as a sanctioned club at the August 2017 Board of Directors meeting. If you have a creative interest you want to pursue or to share, please consider joining others who have similar interests in a supportive, fun, and creative environment.
The Creativity Club explores "herbal art" at its Terrarium meeting in July 2018.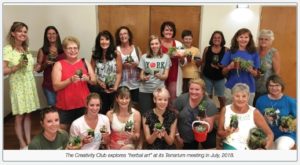 The Fishing Club despite its name has very little to do with fishing. The club's name harkens back to its roots, a few guys who got together for a few beers to swap tales about the one that got away and perhaps the one in the pan. Now the Fishing Club is Lake Heritage's largest social organization. On every second Friday of the month, about eighty lake residents meet in the community center for a pot luck dinner. There are as many women as men in the club. Each dinner has a theme and two or more couples who act as hosts. Beer, wine, soda, and water are provided free of charge.
The club has a president, vice-president, treasurer, and secretary who manages the club's activities. The club does some fundraising and grants scholarships once per year. The club often responds to requests from organizations like the local fire department. Not forgetting the fish, the club pays for repopulating our lake with fingerlings which become tomorrow's "one that got away". The Fishing Club is an advocate for the lake's continued good health.
The Fishing Club welcomes all LHPOA residents to join and is especially welcoming to newcomers.
The Fishing Club meets the second Friday night of every month. Members of the club bring a wide selection of food to have a pot luck dinner. Typically, three couples host each month's dinner. Wine, soft drinks, beer, and water is provided by the club.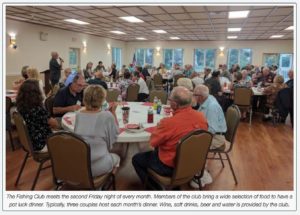 We, the Happy Hookers, are formed of Lake Heritage residents who are primarily crocheters and knitters as well as those who love to embroider or quilt. We meet at the Community Center every first and third Thursday at 12:30 PM with sessions lasting 1 1/2 hours. Skills range from the experienced to those who want to learn a new needlecraft. We welcome anyone who uses yarn or thread as a way to relax and create.
Some sessions start with a short lesson to help the others learn from the more experienced needlecrafters about various stitches, techniques, yarns, patterns, hints about how to read patterns, etc. Then, we move on to visiting with each other and working on our various projects.
We are always looking for new members. To paraphrase Descartes, "Nodo colligo feliciter, ergo sum. I hook happily, therefore I am. "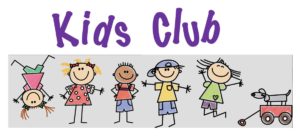 The Kids Club offers monthly playdates, seasonal activities, and volunteer opportunities for kids and their families/caregivers in the Lake Heritage community.
In warmer months, we meet at the playgrounds, pool, and walking trail. In colder months, we gather in the community center for toy shares and cookie swaps. Our seasonal activities include Christmas caroling, a spring kickball game, and an Easter egg hunt. We also participate in community-wide volunteer day and are always on the lookout for opportunities for our kids to serve their neighbors.
Our Facebook group provides a space for members to exchange ideas, seek parenting advice, arrange toy/clothing/babysitting swaps, and more. (You do not have to belong to the Facebook group to be a member of the Kids Club.)
Our club mission is to enrich the lives of Lake Heritage kids, to foster lifelong connections between neighbors, and to instill in our youth at a young age the value of service to our community. The Kids Club is a perfect organization to join for families who are new to Lake Heritage and want their children to meet and bond with peers who are neighbors and may also be classmates. The Kids Club was founded and approved by LHPOA Board of Directors in January of 2020.

Think water, not snow! The Ski Club takes advantage of our lake to pursue water sports including water-skiing, barefoot skiing, slalom skiing, wake-boarding, wake surfing, wake skating & knee-boarding. The Ski Club demonstrates these activities during the lake's annual regatta ski show and hosts the community Memorial Day summer Kickoff Party at the Point as well as the Halloween party. When not on the water, the Ski Club hosts dinner gatherings to encourage comradery. The Ski Club welcomes residents of Lake Heritage of all ages and skills to join.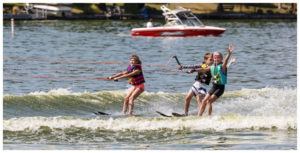 The Swim Club provides aquatics experience and benefits for all ages and abilities. Its focus is on both instructional and performance. Like the Ski Club, the Swim Club takes advantage of the outstanding water facilities available to all residents of Lake Heritage.

The Women's Club is one if Lake Heritage's larger organizations with approximately thirty-five members. The members meet once per month at the community center. The club's vice-president invites speakers from outside the community to engage members on a wide range of topics. The club generally meets on Tuesdays and volunteers prepare light snacks.
Not confined to the boundaries of Lake Heritage, the Women's Club explores eateries, dinner theaters, tea rooms, and other places of interest several times a year. All women who reside in Lake Heritage are cordially invited to join. The Women's Club does have a philanthropic purpose and gives money to worthy causes such as the beautification of the Lake and scholarships to graduating high school seniors who live at the Lake.