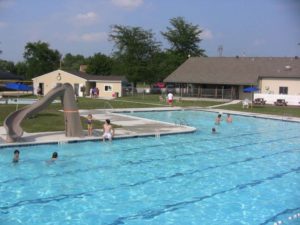 Lake Heritage is very proud of its swimming pool, which is available to all residents. The pool is next to the Lake Heritage office and the Community Center. Prior to opening for each new season, there is always a burst of activity, washing, scrubbing, painting, checking out equipment to make sure that the pool is ready. This burst of activity continues unabated, as the pool manager and employees have a mission to keep the pool and the pool area pristine. A clean, safe, attractive pool is their goal.
Pool Facilities
The pool season opens on Memorial Day weekend and closes on Labor Day.
2022 Pool Passes are available.
Download the Pool Pass form Here, fill it in and either place them in a drop box (one at the gatehouse or one at the Community Center), mail them to the office, or email them to [email protected]
For the 2022 Season the pool will be open from 10:00 am until 8:00 pm.   The main pool has lanes set aside for laps, along with a slide and diving board for your enjoyment.
Swimming lessons are offered this season again to residents for a nominal fee. 
Reserving the Pool for Special Occasions
Pool Party? Yes, a resident can schedule a pool party. There are some per guest fees and an additional charge for the lifeguards. Please make a reservation at least two weeks in advance with the office.
Tennis Courts
Lake Heritage has a tennis court for singles and doubles tennis. You may reserve a spot in the schedule for a convenient playtime.